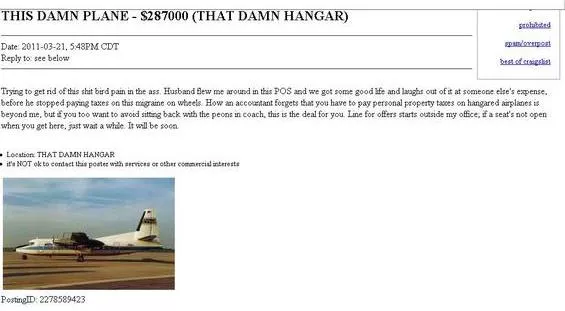 It's a bird ... it's a shit bird pain in the ass!
Well! Look who's selling her private plane on Craigslist!

Now, you might think this ad is a joke, but what kind of wiseguy would mock Missouri's senior senator for failing to pay taxes on her personal aircraft for, oh, four freakin' years? She was only the state's auditor. How was she supposed to know that airplanes are taxable?
As the prankster McCaskill explains in her Craigslist ad,
Trying to get rid of this shit bird pain in the ass. Husband flew me around in this POS and we got some good life and laughs out of it at someone else's expense, before he stopped paying taxes on this migraine on wheels. How an accountant forgets that you have to pay personal property taxes on hangared airplanes is beyond me, but if you too want to avoid sitting back with the peons in coach, this is the deal for you. Line for offers starts outside my office; if a seat's not open when you get here, just wait a while. It will be soon.
The asking price is $287,000 -- which just so happens to be what McCaskill's coughed up in back taxes. But we should add one note of caution for prospective buyers. Call us paranoid, but you probably want to get the keys to the thing before you wire the seller so much as a dollar.