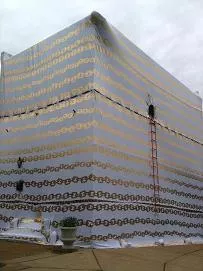 Today's comment comes in response to a post today on
"House Coat"
-- an art project in south St. Louis that wrapped an entire house in spandex.
Reader reaction here at Daily
RFT
has
not been very favorable
, to say the least.
Of those naysayers, commenter "Jdub" perhaps delivered the most scathing and humorous critique today when he took one look at House Coat (right) and asked:
Will it be up for just a week or will the exterminators remove it once the roaches are dead and it's safe to go inside?