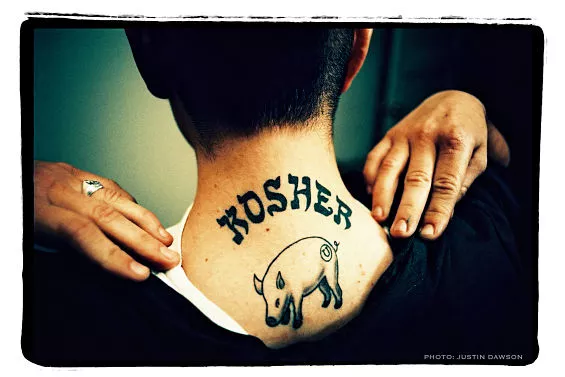 Remember Andy Abrams? This nice Jewish boy from University City has been working for the past few years on a documentary, Tattoo Jew, an examination of the inked Chosen. When Daily RFT last checked in with Abrams, he was trying to scrape up enough money to finish his film.
Now Abrams is finally ready to unleash a rough cut on an unsuspecting world. Tattoo Jew will screen at 7 p.m. this Sunday, March 20, at Schlafly Bottleworks in Maplewood. The event is free, and Abrams will be on hand to answer questions about his work and about tattooed Jews in general.
"You don't have to be Jewish to attend," Abrams tells Daily RFT. "You don't have to be inked to attend. You just have to be interested in the stories of people who choose to get inked despite a religious prohibition, the cultural memory of the Holocaust and the myth that Jews with tattoos can't be buried in a Jewish cemetery."
There will, however, be a "show your ink and a drink" special, and Abrams hopes to distribute Jewish-themed temporary tattoos.
The screening is the first event in the Brew House Educational Series hosted by the Young Professionals Division of the Jewish Federation of St. Louis. On Wednesday, April 27, author Benyamin Cohen will be at Fallon's Bar and Grill in Olivette to discuss his book, My Jesus Year: A Rabbi's Son Wanders the Bible Belt in Search of His Own Faith, an exploration of why Bible Belt Christians are so darned happy about religion.
Here's a short preview of Abrams talking about Tattoo Jew:
Andy Abrams, director of Tattoo Jew talks to SUDINtv from saul sudin on Vimeo.