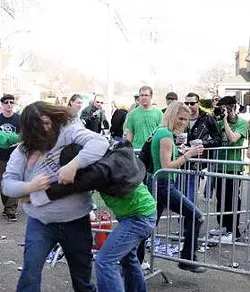 A drunken Irish jig or a street brawl? Who's to say?
Sunny skies and temperatures in the 70s drew one of the largest crowds ever to the Ancient Order of Hibernians' parade through Dogtown yesterday.
The favorable weather also brought out tons of juveniles on spring break. Yet even away from the classroom yesterday, many of those kids learned a valuable lesson -- in criminal justice.
The St. Louis police department reports that its officers cited 44 minors with possession of alcohol during yesterday's festivities. Agents with the city's excise division cited five additional juveniles with underage drinking, for a total of 49 citations issued yesterday for minors in possession.
Other than that, police say participants generally behaved themselves.