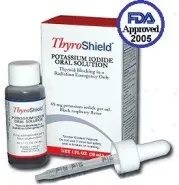 Amid panic about nuclear plants exploding after huge earthquakes hit Japan, a local drug manufacturer is seeing a run on a medicine that protects against radiation poisoning. The over-the-counter drug, ThyroShield, saturates the thyroid with potassium idodide so that it can't absorb radiation.
"It actually has been insanity here," Deborah Fleming Wurdack told the
Wall Street Journal
yesterday. Wurdack is a co-owner of
Fleming Pharmaceuticals
in Fenton. She said she expects the company to run out of its supply of the drug by the end of this week.
"ThyroShield is not routinely stocked in large quantities but we are putting a plan in place that expedites production and delivery," Fleming Pharmaceuticals president Phill Dritsas said in a
press release
.
Last Friday's massive earthquakes and tsunami damaged nuclear power plants in the island country, releasing radiation. The Japanese government has evacuated people living near the plants or advised them to stay indoors.
"The scope of the issue goes beyond Japan," Dritsas says in the release. "Some Americans on the West Coast are fearful that the radiation from Japan could drift to our shores, although that is not a real threat according to authorities."
Indeed, American officials are calling for calm.
"Japan has an evacuation area of about 12 miles from the nuclear plants," Tim Church, a spokesman for the Washington State Department of Health, told the
WSJ.
"Washington state is 5,000 to 6,000 miles away from Japan."