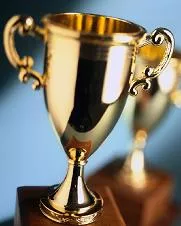 goes to Bill!
Bill bested seven other entries in
yesterday's "Mad Lib" contest
asking readers to fill in the expletives left out of a
Belleville News-Democrat
story about a drunk arrested for cussing at police last weekend.
We had a lot of good entries, including honorable mention to "Dave" whose vivid answers were a bit too graphic even for Daily
RFT
.
Here's how winner Bill filled in the blanks...
Adams, described as "obviously intoxicated," allegedly exited the bar and started yelling at police: "(HMMPH!! I HATE) the Caseyville Police," police reported Adams saying. "The Caseyville Police are a bunch of (DUMMY-HEADS)."

Detective Jeff Wilkinson told Adams to return to the bar, but he continued with: "(I'M RUBBER AND YOU ARE GLUE. WHATEVER YOU SAY BOUNCES OFF ME AND STICKS TO) you! What are you going to do?"...

After police put him in a police car, he leaned back and kicked out the driver's side rear window.

"He shot the glass right in our faces," Wilkinson said.

Adams kept asking his wife for help; "I helped you (THAT TIME YOU ALMOST BURNT DOWN THE BABY'S ROOM/METH LAB) so now help me," he said. She told him she couldn't help because he kicked out the window.
Bill, drop me an
email
and I'll make sure you get your fabulous prize, an autographed
Purple Prose
book from Geoffrey Delicatecharacter.