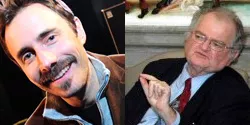 Your (least?) favorite blogger v. Bob Watson.
March Madness extends beyond the basketball floor this year for Missouri political junkies.
Over at
Fired Up! Missouri
they've created what they call the
"Tiger Blood Tourney"
-- a 64-person bracket pitting politicians, activists and journalists in head-to-head match ups to -- in the words of Charlie Sheen -- determine who is really "winning."
I've been entered into the Press Gallery Regional where in the first-round I'm facing the esteemed Bob Watson (
pictured here at his computer
) of the Jefferson City News-Tribune. And as of right now, Bob is kicking my ass in this popularity contest.
So won't you do me the favor of hopping over to Fired Up! and
giving me a vote
? Please? Don't make me beg. My trophy locker (okay, it's more like an infant's shoebox) needs some Tiger Blood!
Cast your vote
here
.