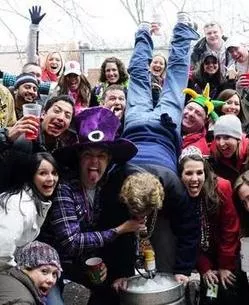 Not all Mardi Gras goers are dirty drunken criminals -- just 83 of them.
Okay, so there was some mad fun in Soulard this weekend: drinking, carousing crazy fun! You can see more about all that here in our slideshow (warning:
this link is ohhh-so-not-safe for work
.
But if you're the kind of crotchety old guy who can't believe what the kids are up to these days -- or, perhaps, if you live in Soulard and you don't appreciate college kids pissing all over your lawn -- here's the flip side to the fun:
This year, the St. Louis Metropolitan Police Department reported 83 Mardi Gras-related arrests and citations. That includes both police actions and people targeted by the city's excise agents, who look out for underage drinking.
We've got the breakdown after the jump.
Citations issued/arrests made, per the St. Louis Metropolitan Police Department:
Minor in possession of alcohol: 67
Disturbing the peace: 6
Assault: 4
Urinating in public: 4
Resisting arrest: 3
Assault on a law enforcement officer: 2
Interfering with an arrest: 1
Indecent exposure: 1
Bartering/trading: 1
For those of you wondering what "bartering" is -- apparently some foolish adult gave her ID to an underage individual so obviously that both were caught. "Bartering/trading" is the name of the charge given to the adult in that situation.
As for those serious-sounding assaults on police officers...not to worry. The PD tells us that, in both cases, the suspect was resisting arrest and hit the officer. There were no serious injuries.
Finally, a little comparison.
Last year, there were 99 charges filed -- more than this year's total of 89. (Some individuals were obnoxious enough to earn multiple charges, which is why you see only 83 people were arrested/cited this year, yet there were 89 charges.)
But this year saw significantly more minors being busted for possession of alcohol. Last year there were 48, in comparison to this year's 67 -- which means this year's Mardi Gras had a 39.5 percent increase in underage busts.
What gives? Hard to say for sure, but we blame the weather. Who wants to drink outside on a miserably cold morning other than nineteen-year-olds?