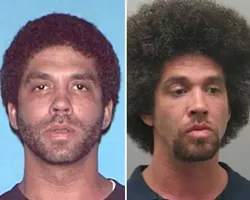 Todd Shepard: Yearned to kill a cop following the death of a former girlfriend.
A felon convicted of previous drug trafficking and assault charges added a new notch to his belt yesterday: convicted cop killer.
The witness-stand confession shocked a packed courtroom in suburban St. Louis where 43-year-old Todd Shepard had been on trial all week for the murder of University City police officer Michael King on October 31, 2008.
During cross examination, Shepard told St. Louis County prosecutor Robert McCulloch that he singled out King because he was white and appeared vulnerable as he sat in his police car observing Halloween revelers in the University City Loop.
"He looked up and looked at me and we made eye contact," Shepard told the court before screaming what happened next: "Boom! Boom! Boom! Boom! Boom! Boom!"
As the
Post-Dispatch chronicles
this morning, Shepard told McCulloch during cross examination that he would have fired a hundred shots at the officer if he could.
Following his confession, Shepard went on to stun jurors with his rationale for the killing, saying that he'd plotted to kill a cop since 2001 when his former girlfriend, Annette Green, was shot to death by a white police officer during a drug raid. (The cop in that slaying was acquitted of any wrongdoing.)
Shepard got himself a .38 caliber handgun that he named "Nette" after his deceased lover and talked off and on for years about the day he'd start a "revolution" by murdering a police officer. That day came on October 31, 2008, when Shepard said he learned on TV that presidential candidate Barack Obama would not seek an endorsement from Nation of Islam leader Louis Farrakhan.
The news so infuriated Shepard that he said he flushed his voter card down the toilet. Later, while having lunch at Red Lobster, he saw a waitress with the nametag "Truth" who spoke of being a revolutionary. That reminded Shepard of Malcolm X and his calls for revolution.
Driving through University City on a mission to buy drugs, Shepard decided the time to start the uprising was now. He saw a cop walking down the sidewalk whom he thought of killing, but passed up the potential victim when he couldn't find a place to park his car. Later he saw another U. City cop in a patrol car, but she wouldn't do because she was black.
Finally he saw King, sitting in his car at the corner of Delmar and Leland. Shepard left the engine of his car running, walked up to King, fired off several rounds at point blank range and fled the scene. He was arrested a few days later in Kansas City.
Asked whether he hoped that King died from the assault, Shepard responded that he "was praying he did."