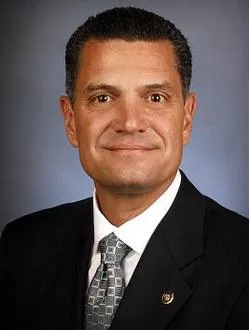 Lembke: Missouri's unemployed need to "quit stealing from their neighbors."
Just when we here at Daily
RFT
were warming up to state senator Jim Lembke for his
fight against red-light cameras
, the south St. Louis County Republican proved this week that he is out of control and needs to be stopped -- be it at traffic signals or his latest effort to screw Missouri's unemployed.
On Wednesday Lembke
stalled passage
of a perfunctory piece of legislation that would allow Missouri to accept $81-million in federal jobless benefits already approved by Congress. Lembke doesn't want Missouri's unemployed to get the money because he believes it will only add to the federal deficit. The thing is, if Missouri declines the aid, the money won't go back into the federal vault. Instead it will be
dispersed to other states
willing to take the funds.
Big deal, argues Lembke.
By declining the federal funds, Lembke hopes he can teach Missouri's lazy unemployed to quit robbing from taxpayers and finally get a job to support themselves. Or better yet, get two or three jobs now that his GOP colleagues want to
lower Missouri's minimum wage
.
"People need to get off their backsides and get a job," Lembke is quoted as saying this week in the
Kansas City Star.
"Maybe they'll have to get two jobs or three jobs to make ends meet, but they need to quit stealing from their neighbors."
H/T: Plog
______________________________________________________________________________
Keep up on all the news and banter by following Daily
RFT
on
Facebook
or Twitter
@chadgarrison
.