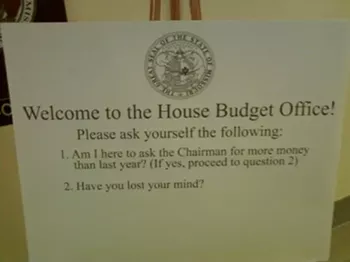 Melissa Meinzer
What? We thought Missouri had no increased funding for anything!
Stop the presses.
We actually have good news coming out of Jefferson City!

Even though the state of Missouri is broke, the Senate Appropriations Committee has resisted Governor Jay Nixon's suggestion to scale back funding to enforce a new law administered by the state ethics commission.

As the Post-Dispatch's Virginia Young reported yesterday, the committee rejected Nixon's plan to save money and hire only two new ethics commission staffers -- instead returning to the ethics commission's proposal and allocating money for five additional staffers.

The staffers would be tasked with enforcing Missouri's new law, which cracks down on money laundering -- making it illegally for one political action committee to give to another. Such intra-committee donations are a great way for politicians and donors to conceal the true origin of controversial or even illegal donations. (See: Delay, Tom.)

For example. Say that the strip-club industry wanted to give millions to Missouri Republicans to stop them from policing lap dances. The Republicans want the money -- but they don't want to be seen anywhere near it.

The way it works in many states? The strip clubs' political action committee would give $10,000 to, say, the Missourians for Public Safety Committee. Then that committee would turn around and write a check for $10,000 to the Missouri Republican Party.

Unless anyone can prove intent -- unless records show that the middle-man transfer was arranged to disguise the money's true source -- it would be all-too legal. The public would be fooled, but no one could do anything about it.

Missouri's new law cracks down on such dirty tricks by banning nearly all gifts between committees. That way investigators don't have to show intent, but merely that a transfer between committees occurred.

And at this point, at least, it looks like enforcement of the new law will be funded.

As Young reports, the Senate committee saw the importance of paying for investigators to police the new restrictions.


"If we're going to pass these ethics statutes, we need to give them some teeth," said Senate Appropriations Chairman Kurt Schaefer, R-Columbia.


Finally, something we can all agree on!