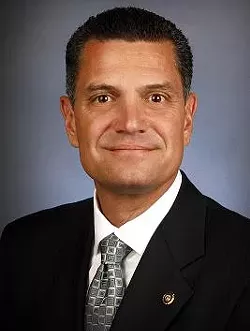 Lembke says "idiots" have tried to spin the story as they see fit.
State senator Jim Lembke tells Daily
RFT
this morning that he's not worried about being found guilty in municipal court last week in St. Louis for a red-light camera ticket.
In December Lembke (R - South St. Louis County) filed a bill for the third year in a row that would
ban red-light cameras
in all of Missouri. At a
hearing last week to consider the bill
, Lembke failed to mention that he was due in court the next day in St. Louis to face charges that a Honda sedan registered in his name failed to come to a complete stop before turning right on red at the corner of Hampton and Gravois back on January 9.
The senator has appealed his guilty verdict to the St. Louis Circuit Court and contends that he was not driving the vehicle at the time of the infraction.
"That is one of four cars registered in my name," says Lembke, who adds that he doesn't know who was behind the wheel. "It could have been my wife, my son, my daughter, the mechanic. It's not my responsibility to do the work of the state" in determining the guilty party.
Lembke says that he purposely did not mention his court date at last week's legislative session because he didn't want the hearing to be about his ticket.
"It would have been a circus," say Lembke. "The hearing would have been full my supporters and others who dislike the cameras."
As the
Columbia Tribune
reported on Friday, Lembke sent the state's attorney general a letter February 10 asking the agency its opinion on whether municipal red-light camera ordinances -- which don't add points to a person's license -- violate state law that recognizes red-light running as moving violations. On February 24 the AG's solicitor general, James Layton,
responded in a letter
, saying his interpretation is that the cameras are valid because they add to the enforcement of state laws regarding red lights.
"Further, state law is silent on the use of cameras to enforce red light ordinances, so an otherwise valid re light ordinance would not conflict with state law merely because it provides for enforcement by camera," wrote Layton.
In a press release today from
Missouri Families for Safer Roads
, Edward Dowd Jr., an attorney who has
defended red-light cameras in Arnold
, which -- like St. Louis -- is contracted with camera company
American Traffic Solutions (ATS)
, said that Layton's interpretation is correct.
"The Missouri solicitor general has it right -- there is no conflict with state law for cities to authorize red light safety cameras to protect Missourians at the most dangerous intersections, " said Dowd. "There is no conflict between state laws on running red lights and local ordinances authorizing red light safety cameras, because both are based in prohibiting running red lights."
Lembke tells Daily
RFT
that the letter he sent to the attorney general was intended solely for input on his bill and had nothing to do with his own ticket -- as some people have suggested.
"I've read online where idiots have tried to spin it that way," says Lembke. "Other have suggested that I purposely tried to get the ticket as a way of pushing the matter. It's all ridiculous."
That said, the senator said his experience in Judge Marvin Teer Jr.'s courtroom last Thursday was "eye-opening."
"I told the judge, 'Your honor, I wasn't driving the car.' He responded, 'It doesn't matter.' Tell me, where else in the judicial system are you guilty until proven innocent?" asks Lembke, who says that the woman in front of him in court had 13 red-light camera violations but remains free to drive because the tickets to add points to the license. "I thought the purpose of these cameras was to make people safer? But she's still allowed on the streets?"
Lembke has a
16-page motion to dismiss
that he's filed with the court appealing his $100 fine for his ticket. In the meantime, he's optimistic that his bill to abolish red-light cameras will advance this year.
"I'm going to talk to Senator (Eric) Schmitt (chairman of the Jobs, Economic Development and Local Governments committee) to see if he's ready to exec the bill out of committee," he says. "Last year the bill passed
23-8 as an amendment
to another piece of legislation. I think it has even more support this time around."