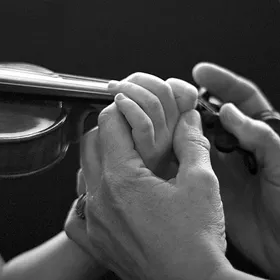 The most recent to come forward was 11 at time of the rape.
These numbers are stomach-wrenching:
As we write, former Wentzville East Elementary music teacher
Michael D. Williams
is rotting in jail on a 25-year sentence. In 2001, he pleaded guilty to eighteen counts of statutory sodomy and rape. There were eight victims, all between the ages of seven and eleven.
Now there is a ninth victim. And, according to her complaint filed in federal court last week, she has only been able to come forward after a decade of treatment for "severe psychiatric disorders" and "attempts to injure herself" caused by his rape.
Read the full complaint by clicking
here
, or scroll through it below, but here are some
highlights
low-lights:
Williams' M.O. was to make Doe come into his classroom all alone during lunch hour for "private lessons."
The very first time Williams had Doe all to himself, another teacher dropped by and saw the pair seated at the piano together. Williams had his hand down the fifth-grade student's pants. Williams said, "I'll be right there." The other teacher did not attempt to figure out what was going on, alleges the complaint.
After that, Williams repeatedly summoned the student to the music room, where he would place the little girl on his lap at the piano bench and "insert his penis."

At the conclusion of each depraved act, Williams would remind Doe that he knew where she and her brother and parents lived, and that he could find them if Doe told anybody about this.
Chillingly, when she would leave, another girl was frequently waiting outside for her own private lesson.
Doe is now 28. She's suing not only Williams, but also the Wentzville R-IV school district, the teacher who walked in on the abuse and the former principal, claiming that they knew or should've known that these wretched acts were occurring right in front of their noses.
Mary Doe v. Michael D. Williams 02-25