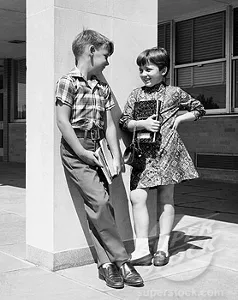 Gee Sally, I sure would like to carry your Kindle home from school for ya.
It was bound to happen. E-readers, which for the last few years have been embraced by book lovers, are now being used for the sort of reading that isn't quite as pleasurable.
The Associated Press is reporting that one Missouri school district is considering swapping textbooks for Kindles.
Those unwieldy tomes we once wrapped in brown paper and slugged around from class to class -- those dreaded, cherished doorstops of cellulose on which we scribbled down girls' phone numbers and used to craft our cheat-sheets -- might soon go the way of the wooden tablet.
Either this is a brilliant move, or administrators have pulled off the impressive feat of making the most boring reading in the world even more boring.
The school board for the Park Hills District, located about 60 miles southwest of St. Louis, voted last week to approve a "Kindles for Kids" proposal. If formalized, the measure would provide more than 2,000 students with an Amazon Kindle DX by the start of the next school year. Administrators are hoping that the tab will be picked up by electronic stores, as opposed to the school district. (Each Kindle DX cost $380. Unfortunately, there are no used, highlighted and dog-eared versions to sell at reduced prices.)
Schools in other states, such as Clearwater High School in Florida, have already switched from textbooks to e-readers.
"This program would save the district a lot of money each year on textbooks," Superintendent Desi Mayberry told the A.P. "If we were able to provide each student with a Kindle, students would be able to learn and access a whole world of information much quicker than they would through a regular textbook. Students would have information instantly, rather than they would if they waited for a shipment of textbooks to arrive."