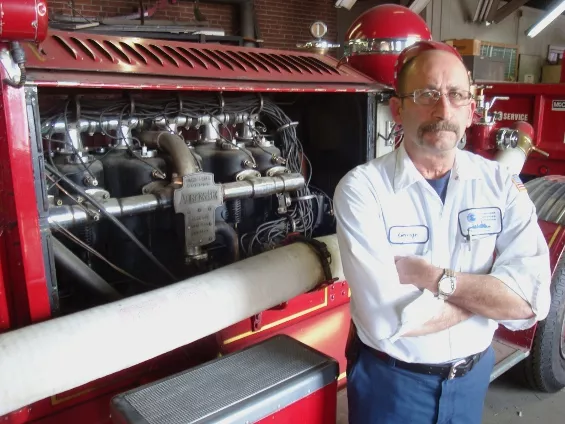 George Mard remembers the days when fire trucks were simple to fix. Tighten a lever here, push a valve there, and you're on your way home for dinner. But over the last fifteen years, Mard, the foreman and senior mechanic of the St. Louis Fire Department's downtown garage, has fashioned himself into an electrician of sorts, ushering his shop out of the oil-and-wrench days and into the digital era.
The 59-year-old Mard is St. Louis's dean of fire-truck maintenance. Soft-spoken, bald and occasionally sporting an old-school handlebar mustache, he's been employed by the department since 1995, longer than anyone else in his garage. In that period, he has, by his count, serviced about eighteen vehicles a day, five days a week. That's 70,000 occasions in which a truck has been entrusted to his dependable, greasy hands.
"Nowadays, there are all kinds of electronic safety features that can make diagnostics more difficult," says Mard, strolling through the cavernous Spruce Street garage. Newer trucks are built with safety sensors that can cause the entire apparatus to shut down completely if something goes awry. "It's less mechanical," he says. "Now we diagnose with laptop computers. The software changes every six months, which makes it difficult to troubleshoot."
Not only is Mard the department's top surgeon; he's also a quasi-general, responsible for preparing the city for battle. On call 24/7, he makes sure that, at any given moment, 40 trucks are spread across St. Louis -- fully serviced, stocked and ready to rumble out the gates.
John H. Tucker
"When that truck leaves, you gotta make sure everything's perfect," says Mard. "People's lives are at stake."
"I always tell (my staff) that we're first line of equipment, and we gotta have these units on the street," he says. "A fire truck is not a dump truck. Our units take precedent."
The first motorized St. Louis fire trucks were rolled out in 1910, during the horse-and-buggy days when the repair shop was located in an old basement on 3rd and Vine streets. (The building was displaced by Interstate 70.) Since then, says the department's historian, Bob Pauly, the city has purchased 330 trucks, all custom-designed. Nine more are scheduled to roll in this spring.
Today, of course, the force is smaller than it used to be, with less money and fewer St. Louisans to rescue. The number of fire stations has fallen from a high of 79 to 34, Pauly says. When Mard first started doing truck triage, he was part of a team of twelve, with five active-duty firefighters offering assistance. That team shrunk to eight, with three firefighters in reserve. Budget cuts and spatial constrictions have led the department to seek assistance from Metrolink for repairs.
But caring for a fire truck isn't like maintaining a car, and mechanics are no less valuable than they were 50 years ago. Because of excess idling time, fire rigs need to be serviced frequently, and repairmen must understand mechanics behind hydro-electrics, hose ports, foam storage and 2,200-gallon water tanks. And then, there's the equipment to worry about: shears, to cut through the roofs of smashed-up cars. Spreaders, to pry open melting doors. Saws. Axes. Hoses.
"You need a lot more time to become well-versed with this stuff," says Mard. "The man who hired me said it takes five years to become a good fire-truck mechanic."
Mard's learning curve was quicker than expected and, fifteen years later, he's become the garage's resident stud. "He has more expertise than anyone else out there," says his boss, Reginald Monroe, with knowledge of both the newer models and their older counterparts, which are kept in reserve for emergencies. (Mard also works on the fleet of antique trucks used for parades and other ceremonial events; only he and a few superiors are permitted to touch these bad boys. )
Mard's longstanding tenure is highlighted by a record of zero maintenance-related accidents under his watch. It's a statistic he's proud of, even if it puts him on edge.
"I'm always worried about number one," he says. "I fix the trucks like they'd be coming to my house next."