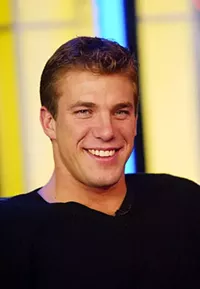 Aaron Buerge, star of ABC's The Bachelor in 2002, has filed for bankruptcy
Be glad he didn't pick ya, ladies, because this Bachelor can be unfaithful. Ask his creditors.
Aaron Buerge
, Springfield resident and reality star of ABC's second season of
The Bachelor
, has filed for Chapter 7 bankruptcy.
He's left more than 100 creditors holding the bag, according to the
News-Leader
in Springfield -- the town where some of his biggest liabilities are, including a
Trolley's Bar and Grille
and the elegant
Vandivort Center
.
All told, writes
The Baltimore Sun
, Buerge and his businesses are $7 million in the hole.