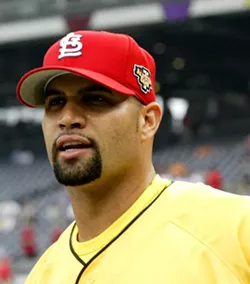 Wikimedia Commons
It's all good, mang.
Okay, Cardinal Nation. Take a deep breath. Repeat.
We know. Your world is about to collapse. The Cardinals didn't reach a contract extension with Albert Pujols prior to today's arbitrary deadline.
"While we are disappointed that we did not reach an agreement, we remain hopeful that Albert will finish his career in St. Louis," said Cardinals chairman William DeWitt Jr. in
remarks to media
this morning. "Albert has been playing baseball at the highest level for the Cardinals these past 10 years, providing us with countless great memories. We look forward to many more in 2011 and hopefully beyond."
There's reason to believe DeWitt, too. Why? Because the Cardinals had practically no incentive to sign Pujols prior to the start of this season, in which he'll make $16 million playing for the Redbirds.
The team still has five days at the end of the season to negotiate exclusively with Pujols before he can field offers from other clubs. That's when the discussion will become most serious -- if it waits that long. Although Pujols and his agent, Dan Lozano, have said that they won't revisit negotiations during the season, it's hard to believe they wouldn't open an email in mid-June from Cardinals GM John Mozeliak titled, "So, how does $XXX,XXX,XXX sound?"
What's more, unlike the NFL, contracts in Major League Baseball are guaranteed. Why sign Pujols to an
incredibly lucrative contract
now if -- God forbid -- he suffers a career-ending injury this season?
Fortune cookie synopsis: Today is not the end, folks. It's the beginning.