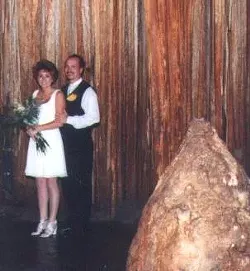 bridalcave.com
This bride may look frigid. Then again, it's a constant 60 degrees inside Bridal Cave.
The Lake of the Ozarks may have been the most romantic place on earth yesterday.
Scratch that. The lake may have been the most romantic place
under
the earth yesterday when 82 couples renewed their marriage vows in Bridal Cave.
Lindsey Webster, spokeswoman for the cave, tells Daily
RFT
that the couples traveled from as far as Minnesota to re-commit inside the cavern's Bridal Chapel -- a room 100 feet below ground that features vast stalactites and room for some 40 witnesses. Yesterday's couples represented 1,151 years of marriage, says Webster.
Since 1949 more than 2,200 couples have tied the knot inside the cave that's believed to have played host to Native American wedding ceremonies. Photos of all the happy couples married within the past 60 years can be found on display at the cave.