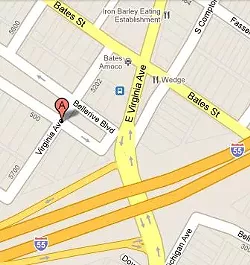 The site of last night's shooting, near Virginia and Dover.
Updated 11:56 a.m.
: St. Louis police confirm that the man shot and killed by one of its officers last night was Timothy Kern, a 53-year-old St. Louis sherriff's deputy. Kern was off-duty at the time and upset about a romantic break-up.
Original report from earlier this morning...
A 16-year-veteran of the St. Louis police department shot and killed a man last night in the 5700 block of Virginia in south St. Louis.
Police report that the man was in the middle of the street, impeding traffic, around 10:30 p.m. The man, described as a white male, was armed with a gun visible on his waist and appeared to be extremely upset. Police report that when told to show his hands, the man instead reached for the weapon. That's when the veteran cop fired, striking the victim three times. He was later pronounced dead at a hospital.
Police have yet to release the name of the officer who fired the shots, though he has been placed on administrative leave. This morning the
Post-Dispatch adds to the reporting
, saying that that man was allegedly intoxicated and was upset that a relationship with a woman had ended earlier in the evening.