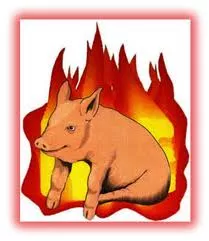 This tragedy both sounds awful and probably smelled that way. Neighbors of
Premium Standard Farms
have
complained for years
about horrible odors wafting off their giant hog operation up in northern Missouri, but
Daily RFT
can't imagine what this was like.
According to
The Kirksville Daily Express
, 4,858 nursery pigs died in a fire that engulfed one of the barns at PSF.
Four different fire departments -- those of Newton, Mercer County, Medicine Creek and Unionville -- came to fight the blaze.It's unclear what started the fire, a spokesperson told the paper.