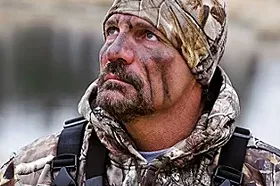 Jeff "Strait Meat" Foiles, wildfowl hunting rockstar, now indicted
Few hunters of wildfowl have more rock-star name recognition than
Jeff Foiles
of Pleasant Hill, Illinois: He and his company,
Foiles Migrators
, appear at trade shows and in full-page magazine ads. His
duck and goose calls
are bestsellers nationwide. And his six-volume series of
hunting DVDs
, entitled
Fallin' Skies
, is legendary among hunters and shows Foiles as a colorful, hard-drivin' character.
But these days, federal authorities both here and in Canada believe Foiles should take a fall of his own.
In December 2010, a grand jury in the Central District of Illinois handed down a
24-count indictment
charging Foiles with violating federal wildlife rules by bagging more birds than is allowed in one day, and falsifying his wildfowl harvest records, among other things. Canadian authorities, who investigated Foiles for several years along with the U.S. Fish and Wildlife Service,
issued similar charges two weeks ago
.
Foiles has pleaded not guilty in the U.S. He referred
RFT
interview requests to his attorney,
Ed Fanning
, who declined comment, saying that it would inappropriate to discuss the matter before the trial, which is set for April.
The American indictment alleges various incidents during which Foiles and his hunting party shot over their limit -- in one case, 25 over. (Such limits are set by federal officials, who take into account the wildfowl population and factors affecting its habitat. Hunters are required to know and obey the limits.)
Some of the allegations stem from the actual filming of
Fallin' Skies
1
in 2004, which began in Alberta, Canada. At one point, the indictment reads, a cameraman became "upset" that the hunters were shooting too many birds, but Foiles instructed him to keep filming.
Three years later, during the shooting of
Fallin' Skies 5
in Pike County, Illinois, certain "undercover officers" were present and allegedly witnessed Foiles breaking the law.
It's not unusual to prosecute someone for violating the Lacey Act or Migratory Bird Treaty Act, says Assistant U.S. Attorney
Gregory Gilmore
. Since arriving in 1994, Gilmore estimates, he's worked on about fifteen such cases. Most of the hunters pleaded guilty before a trial was necessary, Gilmore says.
Foiles, on the other hand, is fighting against his charges.
Here's a sample of Foiles in his element: