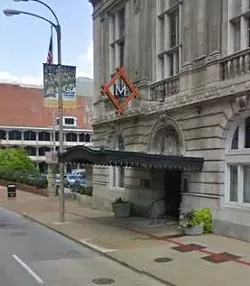 The downtown MAC at 4th and Washington.
A showdown is in the works between City Hall and one of St. Louis' most venerable private clubs.
St. Louis' interim health director Pamela Walker
confirmed yesterday
that the Missouri Athletic Club has received the city's first citation for violating the smoking ban that went into effect January 2.
The city's ban exempts private clubs that have no employees. However, the MAC -- which features a restaurant, bar, gymnasium, swimming pool and other amenities -- is not such a club. Last month the club was found to be in violation of the smoking ban and given 30 days to clean up its act. That time has passed, and still the club continues to allow its clients to smoke indoors.
"I'm hopeful that they'll see that's in the best interests of their employee and their patrons and the health of the community to comply," Walker told
St. Louis Public Radio
yesterday.
The club has been fined $100. After two more citations, the city could shut the club down as a nuisance property.
"Nobody's above the law," Mayor Francis Slay
told the Post-Dispatch
yesterday in reference to the MAC. "Hopefully, we can convince them we're on the right side. If not, we'll have to take it further. This is about public health."
MAC's president Chris Lawhorn tells the daily that the club will handle the matter internally. The club's general manager, meanwhile, has said that its attorneys believe the MAC is exempted from the ban.