Northeastern U. students Matthew Valich and Charles Svirk
Clayton lawyer
Al Watkins
seems to be making a cottage industry out of shielding rascally college entrepreneurs from sabre-rattling corporate giants.
Last year he came to the aid of Mizzou student
Jimmy Winkelmann
, whose start-up,
The South Butt, was sued by The North Face for copyright infringement
.
Watkins's newest opponent:
Nike
, who has been gnashing its teeth at a pair of
Northeastern University
students for making T-shirts with the slogan: "Just NU it."
And just as before, the correspondence between Watkins and the apparel giant has become both heated and wildly entertaining.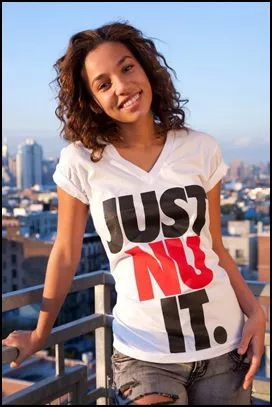 In April, NU students
Matthew Valich
and
Charles Svirk
printed off several "Just NU It" shirts and sold them to their fellow Huskies. Displeased, Nike sent three cease-and-desist letters in July, August and September.
Valich and Svirk responded by launching
Univarsity Apparel
, then used Twitter and Facebook to market apparel to
other schools
, such as Denver University ("Just DU It") and Virginia Tech ("Just VT It" -- yeah doesn't work for us either, but whatever).
By mid-January, Nike was sufficiently pissed off to send a final warning and attach a mock-up of the legal complaint they intended to file.
But Valich and Svirk did a little digging online and found Watkins, who
responded to Nike
on January 28. Here's an excerpt:
....your [posture]....is viewed by my clients as erroneous, bully-like and tending toward totalitarian heavy handedness....

Messrs. Svirk and Valich....are not yet of legal age to lawfully purchase a six-pack of beer. They are students. Some might call them children. While I understand Nike may have sensitivity to the whole child exploitation issue, Chuck and Matt are not shy about their humble economic status as students in pursuit of education. Chuck and Matt embrace the fundamental tenets of the American Way, Capitalism, and maintain a parodic, albeit collegiate, pride in the Univarsity Apparel product....

Then, for all you fans of the South Butt case (in which much was made of the difference between a "face" and a "butt"), here's some textbook Watkins:
Nike is operating under the belief that the consuming public is incapable of discerning the difference between "doing" and "nuing". If this is truly the case, kindly advise specifically the range of verbs to which Nike is laying claim when implanted between the frequently employed and uttered words "Just" and "It". If it includes the "F" word, it is suggested that more than a few million Americans may have a superior "prior use" claim.

Watkins concluded by suggesting the parties settle their differences out of court.
On Wednesday,
Jennifer B. Furey
, attorney for Nike, shot back:
Your suggestion that Mr. Svirk and Mr. Valich are merely "children" cannot be taken seriously. A cursory review of their website....suggests sophisticated, aware businessmen, rather than 'babes in the woods.'

But Furey also expressed a willingness to settle.
Sums up Watkins: "The corporate mindset just doesn't grasp that these are college kids with nothing to lose."