The Union Buster, preparing to take a swipe at the NFLPA Game and, possibly, Tim Barnes' future.
Tim Barnes
, former center for the
Missouri Tigers
, is garnering some attention this week as he plays in the
NFLPA Game
. That's the
National Football League Players' Association
, better known as the
Players' Union
. Which sounds suspiciously like a Def Jam-produced
Bill Bellamy
vehicle, come to think of it. Wow. A Bill Bellamy joke. I sure know how to keep my material timely, don't I?
Anyway, the NFLPA Game is a prospect showcase of sorts, to go along with the better-known Senior Bowl and East-West Shrine Game. Luckily for us, the NFL hasn't yet threatened to lock the game out for being associated with the union, so we can get a look at even more potential future draft picks.
It's really tough to rank the overall quality of players in the NFLPA Game versus the other two showcases. The Senior Bowl is clearly at the top, but while the East-West Shrine Game has more name recognition, I think you would be hard pressed to say the talent level is decidedly better than the NFLPA Game. The NFLPA Game, for whatever it's worth, does feature a ton of small-school players.
Barnes, who was a standout at Mizzou playing center, is manning the position for the
Texas
squad. (The teams in the NFLPA Game are Texas and the
Nation
. Must...resist...siren song...of easy...political...joke.)
In practice earlier in the week he took on Jerrell Powe
, one of the top nose tackle/defensive tackle prospects in the country, and Barnes consistently came out on top.
While it's certainly nice to see a Mizzou alum having success as he tries to take the next step toward an NFL career, I admit to having an alterior motive in profiling him. See, our own St. Louis Rams have a big need on the inside of their offensive line, and while Barnes has played much more center than guard (where the Rams' biggest need is), in his career to this point, that may not actually be such a bad thing.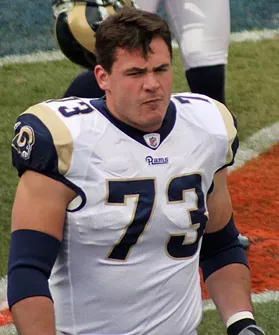 commons.wikimedia.org
Adam Goldberg has filled in admirably at several spots on the offensive line, but the Rams need to find an upgrade in the middle, where Goldberg was routinely overmatched in 2010.
​The Rams currently have Jason Brown under contract for another season, and the former Baltimore Raven has performed fairly well since signing with the team as a free agent. Not quite as well as he played in Baltimore, but you have to factor in the overall weakness of the guards playing on either side of him as well. Given Brown's established pedigree, the Rams aren't likely to be looking for a center to replace him in this year's draft. However, the Rams do need a backup center who can man the other interior line positions, and badly.
All through the 2010 season we saw John Greco sitting on the bench, inactive despite being a much, much better run-blocking option than virtually everyone else on the roster, especially Adam Goldberg. However, due to the fact Greco doesn't play center he was bumped down the depth chart so the Rams could keep insurance on the gameday roster in case Brown were to be injured. If Barnes can prove himself capable of handling one of the guard positions he could function as both an upgrade to a guard spot and a backup/possible future starter at center.
As far as what Barnes brings to the table, he has decent size for a center at 6'4", 300 lbs, to go along with outstanding footwork, balance, and hands. He was a big part of the reason the Tiger offensive line was such a dominating force in 2010, as he served as the unit's anchor. As a guard, Barnes is still big enough, though he's just average in terms of bulk for the position. The real question for Barnes playing at a guard spot will be whether or not he's strong enough to consistently force open the inside lanes. Technique and agility are king at the center position, and that's where Barnes excels, using his skill to make up for being a bit undersized; guards usually rely more on their strength to hit opposing defensive lineman and drive them back and out of the running lanes. Whether Barnes has that ability to overpower and push back an onrushing D-lineman remains to be seen. Shutting down a beast like Jerrell Powe (6'3", 322), certainly helps make Barnes's case, though.
There should be some concern about Barnes transitioning to a pro-style offense, as he's been part of spread offenses his entire career at Mizzou. It's always a worry for teams when drafting a quarterback, and I have to think the adjustment is something you have to look at for a center as well. Certainly not as big a concern, of course, as it is with a quarterback, but it is a change in the snaps, as well as the blocking scheme. Still, I imagine good coaching could easily smooth over any transitional pains.
Depending on how Barnes performs at the various pro day workouts and draft functions over the next couple of months leading up to the draft itself, he could go as high as the third round or as low as the sixth. I'll admit I would like to see him playing for the Rams in the future; I can't help but root for a local kid to get a chance to play for the hometown team. (Well, he's from Longwood, which is closer to KC than St. Louis, so the Chiefs would probably be more of a hometown team, but still.) He could represent a major upgrade for the Rams at an area of need as well, making it a win-win situation for all involved.