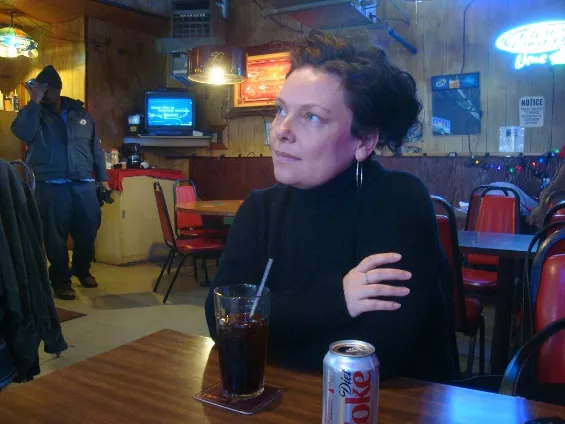 A few years ago during the Marble Stage Theatre Company's run of "Fiddler on the Roof," the role of Golde was given to Shannon McGinn, a local social-services worker who did community plays on the side. The role depicts a fiercely loyal mother, unafraid to raise her voice to empower her struggling clan. Golde can take the heat. Hell, she wants the heat.
When the curtain closed on the run, McGinn shed Golde's costume but not her personality. The Marine Villa resident, who insiders believe is a leading candidate to unseat an incumbent alderman during the spring elections, fashions herself as the champion of the little guy and advocate for the tired, poor huddled masses of her 20th ward.
Yeah, she's a defender the homeless and destitute, you got a problem with that? You gonna question this daughter of an Irish carpenter, who left college early to enter the workforce -- who started her own business by turning a dumpster room into a coffee shop and once survived her own two-week stint in a shelter with two babies in tow? You gonna question Golde?
Last week, McGinn sat down with Daily RFT at an old corner tavern in her ward, where folks nurse midday beers amid cigarette haze and the flicker of Christmas lights that were never bothered to be taken down. These are McGinn's people, she'll tell you -- but their voices aren't being heard.
"This ward is deep," she says. "And it goes through Section 8 housing with people struggling to get by, and those people are not being reached out to. And someone needs to speak out to them."
Her implication is that the current alderman, Craig Schmid, who's held his post for 16 years, isn't tapping into the needs of all his constituents in the 20th ward, one of most ethnically diverse, with a thriving Mexican community. It's anchored by Cherokee and Chippewa streets, and bounded by Dutchtown, Marine Villa, Gravois Park and Benton Park West.
"If I go to door and say to somebody, 'Do you know who your elected representative is?,' most don't know," says McGinn. "That's for somebody who's been on the job for 16 years. They don't know who to call if they have a problem. They don't know where to even get started if they have a slumlord. That's easy information to disseminate, but it hasn't been done."
It's a bold battle cry, especially considering that Schmid, a full-time alderman, is still popular among many longtime ward residents for his willingness to roll up his sleeves and work alongside them. It's not uncommon to see Schmid picking up garbage after dark, tending to community gardens or cruising the blocks with volunteers. He might not have knocked on every door in the ward, as McGinn claims to have done, but he's an active member of several community groups, who consider him a devoted public servant. For his efforts, he was named RFT's Alderman of the Year in 2000.
But the political landscape has shifted since 2007, and the 20th ward has opened its doors to new faces. Twenty-something hipsters have staked a claim on Cherokee Street, an Asian community has flourished and developers, some of whom don't appreciate Schmid's strict regulations on liquor licenses, are eyeing several properties. Some say there's a need for change. McGinn, whose thick auburn curls bounce when she gets animated, is betting on a larger turnout than past years, and she'll need it. In 2007 only 678 of the ward's 5,403 registered voters made it to the polls, and Schmid won with a 75-vote majority. The March 8 primary ballots will also include a third Democratic candidate, Rod Yeager, as well as Green Party candidate James McNeely, which plays heavily into Schmid's favor. For McGinn to win, she'll need to woo new residents and her low-income base to the voting booths.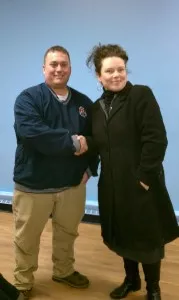 McGinn (pictured with firefighter union leader Chris Molitor) calls incumbent Craig Schmid a "career politician," but many residents respect Schmid for his full-time service.
And that's easier said than done. Many of the ward's Section 8 residents, including several immigrants, are in transit, and less likely to vote. Schmid also warns that McGinn's lack of experience could hamper her during the upcoming redistricting process, which he went through in 2001. "There is a learning curve," he says. "Anyone new coming in will have a huge awakening."
But McGinn, who speaks Spanish and is the vice president of Marine Villa Neighborhood Association, has made other strides, having secured endorsements from the police and fire departments. She is pro-labor and unabashedly supportive of firefighter pensions, which is the subject of fierce debate at City Hall. She also wants to see more businesses and first-time homeowners invested in surrounding properties. And unlike Schmid, she's tapped into the web-based community, with a social-networking site, blog and text-based platform.
The 42-year-old McGinn lives with her teenage daughters and her partner, a local activist she met at a voter registration. (The two started dating when she slipped her phone number underneath her voter card as she handed it to him.) She grew up in Minneapolis as the second child of Irish, working-class parents -- "My father swung a hammer for all of my life," she says -- which put her on the populist path. Her mother exposed her to theater and other cultural events, which helped McGinn discover her love of performing. (That and her big mouth, she'll tell you.)
McGinn moved to St. Louis 15 years ago and has lived in Marine Villa since 2005. That same year she and a friend opened Hartford Coffee Shop, in Tower Grove South -- in a space she says used to be used as an old dumpster -- where she baked cookies on site. (The shop is still open, though McGinn has sold her share.) Prior to that she served as a behavior intervention specialist for at-risk children, and now she works a property management firm, helping to secure housing for the homeless, incarcerated, drug-addicted and downtrodden.
"All the people that nobody else wants to deal with," she says. "I love those people."
Her sympathy for the Hopevillites of the world might seem extreme to an outsider. But the picture becomes clearer when she discusses some of her past struggles. Not long after moving to St. Louis, she hit a rough patch and moved into a shelter with her baby daughters for a two-week stay. It's an experience she hasn't revealed to many until now, but she wants to people to know that it brought her no shame, but rather a sense of compassion and determination.
"I'm a believer that there's no testimony without test," she says. "We all reach points in our lives, whether it's a bad relationship or losing a job, where we can either lay down and give up, or we can fight our way out and use it as an opportunity to do something better for something else."