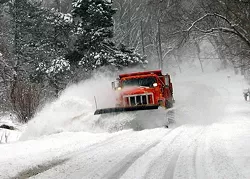 State Rep. Cynthia Davis (R-O'Fallon) photographed on her way to work this morning.
Say what you will about Missouri legislators, there's one insult you cannot hurl at our state's elected officials. They're not wussies when it comes to the weather.
Yes, while their
counterparts in Illinois turn and run
from this week's forecast of an impending blizzard, the Missouri Legislature remains in Jefferson City ready to rough it out. That's right, the state capitol is open for business. Bring it.
H/T: St. Louis Public Radio