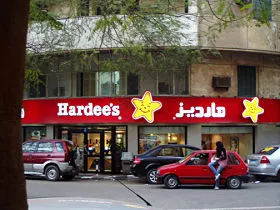 Another reason to be glad you're in St. Louis today instead of Cairo: Even though there's sleet and snow, you can still go to Hardee's, which remains open, even when other stalwarts like the Courtesy Diner have closed, and warm yourself up with a Thickburger.
The Business Journal reports that 32 locations of the St. Louis-based burger chain -- including the one in Tahrir "Freedom" Square -- have shut down because of the violence in Cairo. Several of the restaurants were looted by protesters.
"We have no insight as to whether they were targeted because of their western affiliation," Jenna Petroff, a Hardee's spokeswoman, told the Business Journal. "There has been damage and looting in a number of locations, but at this point, the damage is believed to be associated with general looting."
There are 207 Hardee's in Egypt. This is a far larger number than Daily RFT would have suspected.