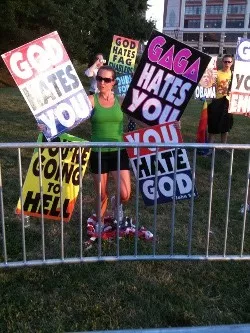 Plaintiff Megan Phelps-Roper protesting in St. Louis last summer.
It took the Westboro Baptist Church just one day to sue St. Charles after the city last week enacted an ordinance restricting when and where protesters can picket during funerals.
Westboro Baptist Church has made a name for itself in recent years protesting the burials of U.S. service members killed on duty. The Kansas-based church, whose website address is
GodHatesFags.com
, believes God is killing America's military members because of the nation's tolerance toward homosexuals.
The ordinance
passed January 18 by the St. Charles City Council
restricts protesters from assembling within 300 feet of a funeral from an hour before until an hour after the service. The very next day -- January 19 -- the ACLU of Eastern Missouri
sued the city on behalf of the church
claiming that the ordinance violated violated Missouri law and their First and Fourteenth Amendment rights.
In late November the
ACLU sued St. Charles County
after it enacted a similar law aimed at Westboro Baptist Church and its firebrand preacher, Rev. Fred Phelps, whose family members comprise nearly the entire 70-member congregation. Yesterday a federal judge
granted a preliminary injunction
on that ordinance preventing the county from enforcing the county law until its constitutionality can be reviewed.
The
U.S. Supreme Court is currently considering a case
against the Westboro Baptist Church that could ultimately decide how to deal with funeral protesters.
Christina Wells, a law professor with the University of Missouri who
filed an amicus brief with the Supreme Court
on behalf of the Westboro Baptist Church, believes 100 feet is a more Constitutionally solid restriction on where protesters may assemble.
Here's how the Westboro Baptist Church defends its protests in its lawsuit against St. Charles City:
Plaintiffs are ... members of WBC, which follows Primitive Baptist and Calvinist doctrines and believe that homosexuality is an abomination, integrally related to idolatry, and indicative of the final reprobation of individuals; it follows, according to their beliefs, that society's acceptance of homosexuality not only invites, but provokes divine judgment. More specifically, they believe that God is punishing America for the sin of homosexuality and other policies that they believe promote sin by killing Americans, including Soldiers, Sailors, Airmen, and Marines (hereinafter "soldiers").

Because of God's omnipotence, which can cause or prevent tragedy, they believe that when misfortune strikes it is his wrath. Plaintiffs and other WBC members have long expressed their religious views by engaging in picketing. They have picketed at churches, theaters, parades, colleges, government buildings, religious conventions, and various other public events that they view as promoting homosexuality, idolatry, and other sin.

For many years, they have also picketed near funerals of gay persons, persons who died from AIDS, people whose actions while alive supported homosexuality and other activities they consider proud sin, and people whose lifestyles they believe to be sinful but who are touted as heroic upon their death. Plaintiffs' pickets are not disruptive or undertaken to disrupt or disturb a funeral or burial service.

Plaintiffs' purpose of picketing near funerals is to use an available public platform to publish their religious message that God's promise of love and heaven for those who obey him in this life is counterbalanced by his wrath and hell for those who do not.

The funerals of soldiers, in Plaintiffs' view, have become an internationally watched platform where the question of whether God is cursing or blessing America is being publically discussed. Plaintiffs and WBC believe that scriptures teach that soldiers who die on the battlefield for a nation that is at enmity with God cannot go to heaven.

Furthermore, contrary to the views of public figures and the public at large, such individuals are not heroes. Additionally, they observe that the lives, deaths, funerals, and public mourning of soldiers are topics of intense and detailed public discussion, with frequent lengthy media reports and routine commentary by public figures, including elected officials, clergy, military leaders, other leaders, and by members of the public.

For this reason, it is imperative to Plaintiffs' faith that the contradictory message from public figures and others on this public topic be balanced with scriptural truth at the time it is being uttered. Further, Plaintiffs and other WBC members believe that funerals, burials, and memorial services are times when the eyes, ears, and hearts of mankind are attending to matters of mortality and eternity.

Plaintiffs and WBC believe it is too late for the dead, but not for the living to hear and heed their message. Also, they believe that one of the great sins of America is idolatry in the form of worshiping the human instead of God and that, in America, this has taken the form of intense worship of the dead, particularly soldiers.

For all these reasons, the public fora surrounding certain funerals are the only place where Plaintiffs' religious message can be delivered in a timely and relevant manner to those faced with the immediacy of mortality and eternity (i.e., those attending the funeral and to those participating in the public events and displays outside the funeral, as well as the public at large).