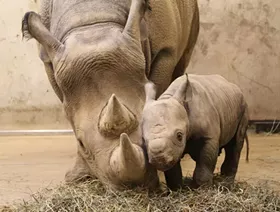 The new rhino calf and his mother, Kati Rain.
Congratulations to Kati Rain and Ajabu, two black rhinos at the Saint Louis Zoo, on the birth of their new calf. The calf, a male, arrived on January 14 and weighed 120-1/2 pounds. He's still unnamed, but has been nursing steadily and bonding with his mother in a behind-the-scenes barn in the zoo's River Edge section. They'll move to an outdoor display when the weather gets a little warmer.
The calf is the eighth black rhino to be born at the zoo, but the first in twenty years.In the wild, the black rhino is a critically endangered species. Between 1970 and 1992, its population declined by 96 percent, from 65,000 to 2,300, mostly due to illegal poaching. (The horn of the black rhino is said to have medicinal properties.) The World Wildlife Fund now estimates the population has risen above 4,000.