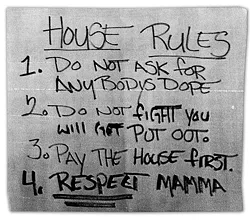 The list reads like the rules college freshman are handed when moving into student housing. The only exception: Members of the opposite sex don't have to be gone by midnight. Woohoo!
In an effort to "protect safety" at Hopeville -- a growing homeless camp on the St. Louis riverfront near
Mullanphy and the flood wall
-- City Hall today announced a number of regulations they plan to enforce inside the encampment. The decrees include the following:
No drugs or criminal activity by anyone.
No drunkenness by anyone.

People living in the encampments must cooperate with police, the Health Department, and the Fire Department at all times.
Camp residents must keep the area clean, and free from hazards.
"Services provided by qualified people are much more effective and much more humane than an encampment - especially for homeless people who might be addicted to drugs and alcohol, or who have mental disorders," said the city's Human Services director, Bill Siedhoff, in a press release today announcing the rules. "But the law does not allow us to force people to receive services. So, if they won't accept services, we want to make sure they are safe."
City Hall maintains that it has the right to dismantle the encampments if the homeless are a harm to each other or themselves, and today's rules seem to lay the groundwork for that type of action.
In addition, the city announced today its plans to have the fire department visit the site to see how they'd respond to a fire or other emergency. Additionally, the Health Department will regularly inspect the encampment.
"We are going to allow the people there to use legal sources of energy to stay warm," said Fire Chief Dennis Jenkerson, in the same press release. "If they use propane or build a fire in aresponsible way, no one will get hurt. But, if they use propane or build an open fire while under the influence of drugs or alcohol, someone could get hurt."