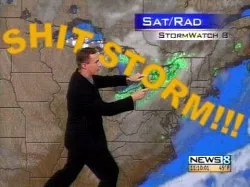 Oh no! Call in the National Guard! A few inches of snow have accumulated...in fucking
January
! Who could have
ever
seen this coming? Let's all freak out, buy up all the bread and toilet paper in stock at the stores -- since we seem to be on the verge of shitting ourselves anyway -- and sit at home clutching our pearls.
Or we could all just put on our collective big-girl panties and, y'know, deal with it.
Taking I-64/US 40 in to the office this morning, Unreal was greeted with this message from one of those big blinky LED signs: "Extreme weather. Limit travel." Extreme weather? Fuck you. Was it raining toads? That's extreme weather. Snow in midwinter is NOT extreme. Not even seven big inches.
In south city, some side streets had obviously not been touched by salt or a plow. At 9:30 this morning! It's been snowing since yesterday evening, dudes. Get on that shit.
But it's not just the official response that's been idiotic. No, dear drivers, you're behaving moronically as well, oh ho ho.
You know how you have to scrape the snow off the windshield in order to see out of it? You are not actually finished de-snowing your car just because you can see out of it. That big meringue topping of snow that you were just too cold and tuckered-out to brush off the top of your car is going to fly off into someone's windshield at some point. And they will probably start crying and jam on their brakes and fishtail into another lane. Finish the goddamn job.
Quick quiz: You see a road sign at an intersection. It's a red octagon with a mysterious English word on it. What should you do? Should you just creep through the snowy dangerous intersection, making a fake-apologetic "whaddya-gonna-do" face as you get a middle finger from Unreal who somehow managed to apply her brakes properly? NO YOU SHOULD NOT.
Finally, on the topic of hazard lights: Sure, they have a place. If you're too terrified to go anywhere near the speed limit, Unreal will forgive you (and mock you, but that's neither here nor there) for displaying them as you creep and weep along the highway. However, they are not "I'm gonna do whatever the fuck I want" lights. Blinkers do not entitle you to just sort of generally drive anywhere you see fit on a multi-lane highway.
Everybody just chill the fuck out. Seriously. We'll all be bitching about the summer heat before you know it.