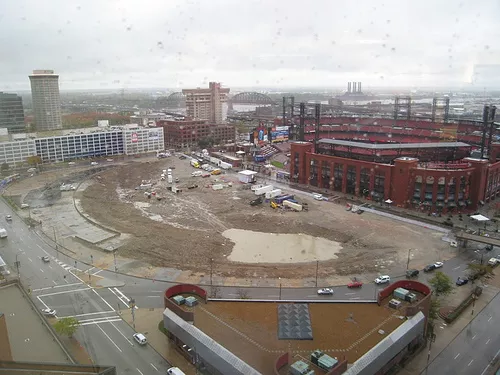 courtesy of Urban Review STL
Ballpark Village: Attractive, no?
This just in ...
We're hearing via St. Louis Public Radio's
Rachel Lippmann
that the
Missouri Downtown Economic Stimulus Authority
has given its approval for a tax incentive package for the long-stalled Ballpark Village project.
The package will now go to the St. Louis Board of Alderman for its approval.
Ballpark Village is slated for the eight acres just north of Busch Stadium. The office space/retail/housing project was originally proposed by Cardinals owner Bill DeWitt III as part of the deal that won him city support for a new stadium. In its current incarnation, the project will have 250,000 square feet of retail/entertainment space, per the City of St. Louis Development Authority, and a bunch of office space, too. (We're no longer hearing anything about housing, which is probably wise considering how much of it is sitting empty.)
If today's vote gets repeated by the city's aldermen, it will also get a big fat tax break -- although no one seems to have specific numbers on how much is being discounted just yet.


The RFT also wrote a cover story about the not-so-dreamy Field of Dreams in 2008. You can read that here.