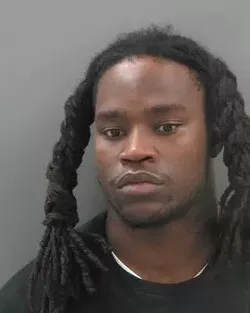 St. Louis Metropolitan Police Department
Laurence Maroney
Updated 3:28 p.m. with mugshot

Updated 10:34 a.m. with information from St. Louis police
The St. Louis Police Department says that last night's incident occurred around 10:30 p.m. following the
Rick Ross
concert at the Chaifetz Arena. Police say they observed three vehicles causing traffic to slow near the arena, with the persons in the vehicles repeatedly stopping to talk to passersby. Several occupants of the vehicles, according to police, were observed smoking what was believed to be marijuana. Officers successfully stopped two of the vehicles -- an
Infiniti Q56
SUV and a GMC Yukon. The third vehicle fled from police and was not located.
The Infiniti carried six men, one of whom was presumably Denver Broncos running back Laurence Maroney, although police are not yet releasing any names. Inside the Infiniti, police say they found marijuana and three weapons -- a .45 caliber, a 9MM and a .223 rifle. Police arrested five of the individuals in the car on suspicion of marijuana possession and/or unlawful use of a weapon. One of those suspects, 25, had a conceal carry permit. That individual was arrested, per police, "for possessing a firearm while under the influence of drugs."
Based on the suspect's age (25) and what his publicist told us earlier today about Maroney having a concealed carry permit, we assume that the individual in question is Maroney. We are filing a Sunshine Law request with the police today for additional details.
Police say that the GMC Yukon carried five men, one of whom was arrested for being a "felon in possession of a weapon" -- specifically a Glock. Neither that individual -- nor the persons in the Infiniti -- has yet been charged officially with a crime at this point as prosecutors determine whether to seek arrest warrants.
Our original reporting follows...
Updated 9:56 a.m. with comments from Maroney's publicist
NFL player Laurence Maroney, 25, was
arrested last night
in his hometown of St. Louis.
KMOV
and
KMOX
both report that Maroney was detained on suspicions of drugs and carrying a weapon.
Maroney's publicist, Jane Higgins, tells Daily
RFT
this morning that the Denver Broncos' running back was not arrested for drugs. She confirms that he had a gun on him but adds that he has a concealed-carry permit although Maroney did not have the permit on him when arrested.
Higgins says that, as she understands it, Maroney was pulled over last night when police mistakenly thought he was part of a police chase.
Maroney, a 2003 graduate of Normandy High School, played three seasons for the University of Minnesota before being drafted in 2006 as a first-round pick to the New England Patriots. This year, Maroney was traded to Denver where he played a limited role as running back, seeing action in just four games.