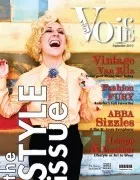 For three decades, the lesbian, gay, bisexual and transgender community in St. Louis has had a voice in print. Several evolutions from its beginnings,
Vital VOICE Magazine
is celebrating 30 years of LGBT media, and it's shaping up to be quite the party.
"We have really grown and showcased how great the LGBT community is," Darin Slyman, publisher of Vital VOICE tells Daily
RFT
.
Beginning in 1981 in the wake of the inaugural St. Louis Gay Pride Week, Jim Thomas began publishing the
Gay News Telegraph
, an eight-page paper staffed by volunteers. The paper was news- and advocacy-driven, focusing on legislation and events affecting LGBT people both globally and locally.
The paper grew and was later renamed the
Lesbian and Gay News Telegraph
; in the early '80s, it was distributed as far afield as Kansas City, Memphis and Little Rock.
In 2000, Pam Schneider took over the paper, and she renamed it
Vital Voice
. Schneider kept Thomas on as editor-in-chief, and introduced the revamped
Voice
at Pride in 2001.
"The cool thing about the
Vital Voice
newspaper was back in 2004 we were granted exclusive interviews with all the Democratic candidates -- that included Sen. John Kerry.They all wanted the gay vote," says Slyman. "That raised the bar for LGBT media in this market."
In 2009, citing financial difficulties, Schneider sold the paper to Slyman, who'd been serving as fashion editor for the newspaper.
Schneider, says Slyman, told him, "Look, I can no longer afford to continue doing this. I can sell it to you or shut it down and lose LGBT media in St. Louis." So Slyman bought the paper -- and shut it down.
"I had to make big heavy business decisions," Slyman says. After a few months in the lab, he relaunched the publication in yet another iteration -- the glossy magazine it is today. The first cover subject was Bravo television personality and St. Louis native Andy Cohen. The second was Lady Gaga.
The focus, Slyman says, is different now than it was in the past. Just as the LGBT experience in this country has evolved, Slyman says, so should coverage of it.
"The printed publication is a lifestyle publication," he says. "My goal is to showcase, exonerate and promote anything that is awesome about the LGBT community."
Slyman says he still feels a responsibility to report hard-news issues affecting the community, but the printed product is meant to be glossy and fun. The newly-revamped Web presence, he says, is the place to find hard news.
"This is my own personal human rights platform, if you will: If I can get Aunt Betty Sue in Arnold, Missouri, to pick up a Vital VOICE Magazine at the hairdressers and at the very end, turn to her friend and say 'Did I just read a gay magazine? These people seem normal!' I change minds by what I'm doing," Slyman says.
The revamped
web presence
is an expansion into what Slyman called "omnimedia." There are blogs, magazine content and Vital Voice TV, a video channel with vignettes hosted by the incomparable
Dieta Pepsi
.
Which brings us, of course, to party time. This Saturday from 7 p.m. to midnight, rock out at Lumen for
V2, the official party
celebrating 30 years of LGBT media in St. Louis, one year of Vital Voice magazine, and the brand spankin' new web site. The $25 you'll spend to get in gets you an open bar, food and performances. The evening benefits
SAGE Metro St. Louis
, a worthy nonprofit assisting LGBT folks as they navigate aging.
("Girl, one day I'm gonna be an old gay and someone better take care of me!" Slyman tells us. Sounds fair.)
Get your tickets at the door, or check out the
Facebook event page
.