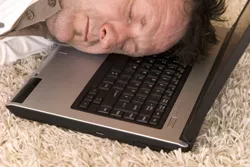 Every week we come across a lot of entertaining videos online. Some are funny. Some are amazing. Some are sad. Some are just 'effed up. So we decided to start sharing a few of them with you each week.
Come on, it's Friday. You're bored with your cubicle and anxious to get home. You're also wasting time online and ignoring that pile of work stacking up next to you. Chances are you're scanning the Internet for something to kill time before it's time to hit that Friday happy hour. So we're here to help.
1. Ghostbusters Meets Inception
Someone decided to give this classic a modern makeover. The results are nothing short of genius. Seriously, this Inception-styled trailer is epic. As one Facebook commenter points out, "I bet they could re-release the movie with that trailer and make billions."
2. Wheel of Fortune: The Medicated Version
This is quite possibly the greatest answer ever given on Wheel of Fortune.
3. I Get By With a Little Help
Sometimes you need to enjoy those rare moments when a group of people come together to help someone out. This eight year old girl got the chance to deliver the national anthem at a hockey game the other day. She was doing great, but unfortunately her mic went dead. However, instead of leaving the poor kid hanging, the entire crowd came together and turned it into a group sing along -- awesome.