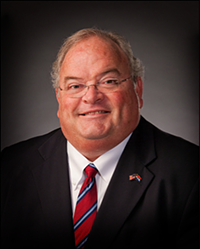 Congressman Billy Long holds the seat long held by now-Senator Roy Blunt.
Call it the Tucson effect.
Less than a week after a 22-year-old Jared Loughner shot Congresswoman Gabrielle Giffords in the head outside a Tucson supermarket, killing six bystanders and wounding fourteen others, the FBI paid a visit on the Springfield-area blogger behind "Long is Wrong" -- a now-defunct web site that criticized now-Congressman Billy Long, R-Springfield.
The sheriff who accompanied the FBI on the visit,
Greene County Sheriff Jim Arnott, told KSPR that the visit was part of a broader effort
to identify "potential threats to members of Congress."
According to the Springfield TV station:
Arnott said U.S. Capitol police canvassed members of Congress to come up with a list of people across the country who might be considered potential threats to members of Congress. It's up to local law enforcement to protect members of Congress when they return to their home districts.
But if this is the biggest threat faced by Congressman Long, we have to admit to being none too worried. The blogger in question, Clay Bowler, took down his anti-Long blog soon after the election. And while he'd made a point of asking Long tough questions during the campaign -- and videotaping his answers, he says he stopped attending Long's events back in September.
Per KSPR:

Bowler, an avowed conservative, says the FBI visit was cordial. He videotaped the encounter and said the agent was polite throughout the brief encounter.

But Bowler says the FBI visit left him shaken.

"I don't sit 24 hours a day, seven days a week, thinking about Billy Long," Bowler said. "I stopped going to campaign events in September where Billy attended."
We have to admit, as much as we're horrified by what happened to Congresswoman Giffords, we're pretty skeptical about this visit. Initial reports suggest that the Tucson suspect was less politically active than he was arrogant and mentally troubled. We'd rather see the FBI spend more time on background checks for gun purchases when a person has a history of acting out ... and less time interviewing reasonable critics of candidates for office.
That said: Have any other local bloggers or gadflies gotten a social call from the FBI lately? We're curious to see just how wide a net the feds are casting -- if you hear more reports of visits like this one, let us know.