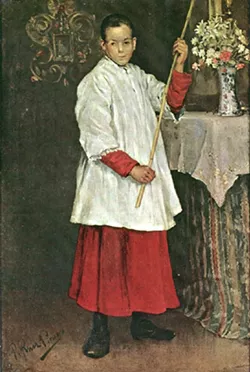 An Illinois appellate court has upheld the ruling of a 2008 St. Clair County jury that awarded a man $5 million in a lawsuit versus the Belleville Diocese.
The 2008 trial alleged that Rev. Raymond Kownacki sexually molested James Wisniewski of Champaign when Wisniewski served as an altar boy in the church in the 1970s. The Belleville Diocese appealed the jury's $5 million judgment for Wisniewski on grounds that the case should never have gone to trial. Their argument: the statute of limitation had long since expired when the lawsuit was filed.
As the
Belleville News-Democrat
reports today, the appellate court didn't see it that way. In a 2-1 decision the judges sided with the jury and dismissed the statute of limitations claim after finding "fraudulent concealment" on the part of the diocese. Why? Because the diocese knew of other charges of Kownacki abusing other children yet failed to warn parishioners or Wisniewski.
As the Belleville paper also notes today, the diocese never refuted other claims made during the initial 2008 trial alleging that Kownacki repeatedly raped a 14-year-old housekeeper and molested Guatemalan children involved in the diocese's mission work.
Today, the Survivor's Network of Those Abused by Priests (SNAP) applauded the appellate court's decision and chided Belleville Bishop Edward Braxton for appealing the case.
We are grateful that these judges are rejecting the Belleville Catholic bishop's callous legal maneuver. We applaud the victim's patience and persistence in seeking justice and exposing wrong-doing. And we deplore Bishop Braxton's selfish and fiscally irresponsible conduct in this case....His goal, we suspect, is to deter other clergy sex abuse victims into keeping silent. We hope his strategy backfires," SNAP said in a statement emailed to the media.