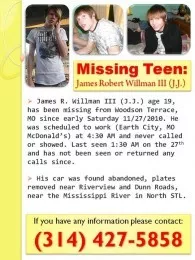 James "J.J." Willman is the kind of person who puts everyone else's feelings before his own, says his father, Jim Willman. The 19-year-old from Woodson Terrace has been missing since Nov. 27, when he didn't show up for his early shift at McDonald's in Earth City.
"I knew something was wrong the moment he didn't show up to work and didn't respond to my calls or texts," the elder Willman tells the
Daily RFT
.
This Saturday, family and friends of J.J. Willman are hosting an all-day benefit with bands to raise cash for a reward, and possibly to hire a private investigator, at the Pine Room Bar & Restaurant at 1102 Perry Street in St. Charles from 10 a.m. until 1 a.m. Sunday.
In the weeks that J.J. Willman has been missing, police have found his car in North St. Louis with its plates removed, and identified and cleared a person of interest in the case.
"He's still missing and we're still working on it," Chief Bob Dowling of the Woodson Terrace Police tells the
Daily RFT
. "We've had somebody working on it every day. The longer he's gone, the more concerned we are for his welfare."
Jim Willman and his friends, family and supporters have plastered the area with handbills bearing the young man's face and urging anyone with information to call the Woodson Terrace police. They've gotten bumper stickers, T-shirts and bracelets made, and there was a billboard on I-170 for a time.
If you have any information, call Woodson Terrace police at (314) 427-5858.