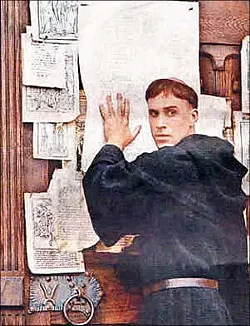 Is that Martin Luther or St. Louis Catholic nailing his protests on the castle door?
For the 35th year in a row, the St. Louis Archdiocese this Sunday will hold a
special mass
honoring the life and works of Martin Luther King Jr.
And for the third year in a row, the blog
St. Louis Catholic
is bitching about it.
Why? Because, per St. Louis Catholic, "it is grossly inappropriate to celebrate a Mass 'in honor' of a non-Catholic. Period."
The St. Louis Catholic notes that while MLK Jr. did accomplish "wonderful things" in the field of civil rights, there were "certain sinful behaviors in his personal life" that shouldn't be overlooked.
Moreover, how can Catholics celebrate anyone who is named after Martin Luther, the found of the Protestant Reformation? Asks St. Louis Catholic:
How many Catholic saints had their names legally changed by their parents to pay homage to arch-heretic Martin Luther, and then lived and died as a preacher in the Baptist sect?
The answer: Zero.
H/T: Bergersbeat.com
Related Content:
Catholic Blogger Tutors RFT on Headline Writing, Moral Law