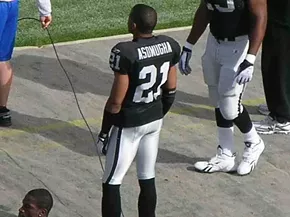 commons.wikimedia.org
I'll be honest: I really only put this picture here to help me remember how to spell Asomugha while writing this article.
It isn't very often that one of the top two players at a given position becomes available in the NFL, but that's just what has happened with cornerback
Nnamdi Asomugha
. Thanks to an odd series of clauses in his contract, Asomugha, late of the
Oakland Raiders
, is an unrestricted free agent, meaning he's available to any team who wishes to sign him without penalty. The Raiders also cannot use their franchise tag on the cornerback.
In other words, the best cornerback in the NFL (or maybe co-best, along with the Jets' Darelle Revis), is now for sale.
As I said, this kind of a player simply doesn't hit the market very often, at least not when said player is still young enough to be considered somewhat in his prime. Asomugha is 29 years old, still within the range of productive seasons for a corner; usually, when the top player at his position comes free it's after age 33 and two knee surgeries. (The exception being running backs, who age like eggs on a radiator and often burst into flames in low-speed collisions beginning at about 28 or so.)
Without question, Asomugha is a tremendous player, and immediately becomes the biggest name free agent on the market. Since this is a St. Louis sports-focused blog, the more pertinent issue is whether or not the Rams might have interest in upgrading their cornerback situation.
At first blush, Asomugha doesn't seem like a great fit for the Rams. Sure, they probably have the cap space, but this is a team with much, much bigger needs than filling in at corner, where
Ron Bartell
and
Bradley Fletcher
both represented fairly bright spots this season. Hell, when I did my list of the biggest needs for the Rams to address going forward I didn't include corner at all, choosing instead to look at safety. The Rams could certainly use more depth at corner (please god, never let me see
Kevin Dockery
play for this team again), but Asomugha is most definitely
not
a depth player. So overall, not a great fit.
On the other hand, while we're all looking for any and every possible option to upgrade the wide receiver corps, Asomugha represents a true game-changer, the likes of which the Rams might not be able to find on the offensive side of the ball. And I know it's easy to say points saved are just as good as points scored, but I think we should take care to remember it all the same.
If the Rams were to have interest in Asomugha (which I'm not saying they do), how would they go about making such a deal work? Well, actually, there's a fairly simple, elegant solution. They could simply trade Ron Bartell.
Now, lest that sound like I'm cutting off my nose to spite my face and all that, trading away the Rams' top corner to bring in a corner, let me explain. Bartell is a marketable commodity, a very good cornerback still in his prime years. (Bartell is 28.) He's just completed the second year of a four-year deal signed before the 2009 season. And, most importantly, Bartell is a pretty damned good player.
So why would you trade such a valuable guy? Because a) Ron Bartell isn't Nnamdi Asomugha, and b) nope, still isn't Nnamdi Asomugha.
The Rams have an emerging player on the other side of the field in Fletcher, who is already challenging Bartell for the title of best Rams' corner in his second season, and Fletcher is still cheap for a bit. Moving Bartell would upgrade the #1 spot on the depth chart at cornerback and help to mitigate the cap hit the Rams would take bringing in Asomugha's big salary. Bartell is also valuable enough they could likely net a very useful draft pick in exchange, helping to offset the potential difference in money between the players as well.
Asomugha would be a perfect fit for the Rams, as he plays a true man-to-man style of coverage, and plays it as well as anyone in the league. The Rams, as one of the few bump-and-run cover teams going (most teams prefer to play a zone more often than not), need a corner who can play on an island. Asomugha would certainly represent that.
You want proof of how dominant Asomugha can be? He played in 14 games in the 2010 season, and was targeted on pass plays by the opposing offense only 33 times. Of those 33 attempts, only 13 were completions, for a grand total of 205 yards and no touchdowns. That's right, teams threw toward Asomugha less than 2.5 times per game, and completed less than 40% of those passes. That's incredible. Teams simply don't throw to Asomugha's side of the field.
The competition for Asomugha's services will be very stiff, as there are plenty of teams around the league who would love to get their hands on him. The Philadelphia Eagles, Houston Texans, and Dallas Cowboys all had awful secondaries in 2010, just to name a few. There has been talk of Asomugha preferring either the Jets or Packers, but neither looks to be a great fit logistically.
So is there any way the Rams would actually do something like this? Tough to say, but it would be surprising, unfortunately. By bringing in a player like Asomugha and moving Bartell, they could simply eliminate half the field in the passing game, ease the cap hit of bringing in the top cover corner in the league, gain a draft pick or two, and force teams to throw toward their exciting young corner on the other side from Asomugha.
Then again, you can't win every single game 10-7, so maybe this isn't a particularly good use of resources. That's for you to decide and rip me apart in the comments section for. The Rams have big needs at plenty of other spots on the field; allocating more resources to what is already a fairly strong position would be a somewhat controversial way to go, to say the least.
I will make one last argument in favour of this plan, though. With Nnamdi Asomugha and Oshiomogho Atogwe playing on the same field, the Rams would almost surely have the most difficult to spell secondary in all of football. That has to be worth something.