Daily RFT just got off the phone with Grain Valley police chief Aaron Ambrose who confirms the tragic news out of his western Missouri town is not a hoax.

A four-month-old child did, in fact, lose seven fingers to the family's ferret this week.

"I got a call around 2:30 a.m. Monday," says Ambrose, who was awakened by one of his officers at the scene. "It was snowing here, so I figured he was calling in to report a vehicle wreck. When he started relaying to me the story, I couldn't believe what I was hearing. I wish it were a hoax."

According to the police incident report (published below) the infant boy was sleeping in a rocker when the ferret began chomping on his fingers.


"He was left with just his two thumbs and part of a pinky," says Ambrose.

The boy's father killed the ferret that night. Ambrose tells Daily RFT that police had arrived to the residence one other time last summer to investigate a complaint that the parents had left their kids unattended at home. An investigation into the ferret incident is still underway. Police have yet to release the names of the family or the victim.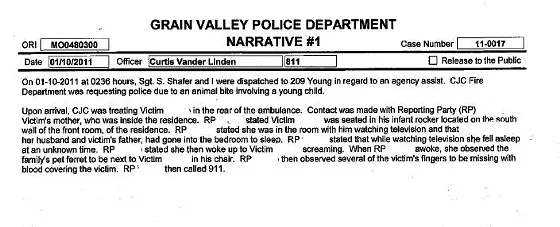 Related content: Missouri Ferret Attack Not Isolated Incident; Animals Known to Bite Babies