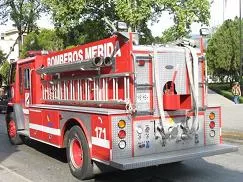 The city will reportedly file a summary judgment motion against the state today.
Last summer we posted a story about Mayor Slay's disgust with the Statehouse for trying to rewrite city bylaws on firefighter residency. At the time, Governor Nixon had signed a bill permitting veteran firefighters to establish residency outside city lines after seven years with the force, provided that the schools in the city in question are unaccredited. (In St. Louis, they are.)
In his blog, Slay shot back, claiming that only St. Louis voters could adapt their own residency laws, and that Nixon's meddling amounted to a breach of contract. The mayor warned that "the next steps would be serious."
Slay apparently meant what he said. Shortly after the mayor fired his opening salvo, the city filed suit against the state, claiming the residency bill was unkosher. We've now learned that Slay's lawyers are expected to file a motion for summary judgment today, effectively asking the judge to repeal the bill without trial. The state would have 30 days to respond.
"Based on the law and undisputed facts, there should be no reason for this to go to trial," Kara Bowlin, the mayor's press secretary, tells us. "The judge can probably just rule based on the law."
The pending litigation leaves firefighters in limbo. Even though the bill has been enacted, the city has not budged from its claims of home rule, and fire departments across the city have received letters from Slay advising veterans to sit tight. "The Charter's residency requirement remains intact and we will enforce it pending a court decision to the contrary," says Bowlin.
Firefighters themselves are split on the measure. Some are happy to flee the city for cushier county environs. But some, like Percy Green III, believe that firefighters should take pride in the city they work in. "We signed up and accepted the stipulations. It was part of the agreement," says Green. "When you live here, you care a little bit more about your duty. But If I live in Clayton and work in the city...pshaw, whatever."
Nixon Spokesman Scott Holste did not return messages for comment.
The bill was sponsored by State Senator Jim Lembke, a Republican who represents a large portion of St. Louis County and a small slice of the city.
When asked to consider the public schools' lack of accreditation, Green says: "Most of the guys who are for [the bill] send their kids to private school anyway."