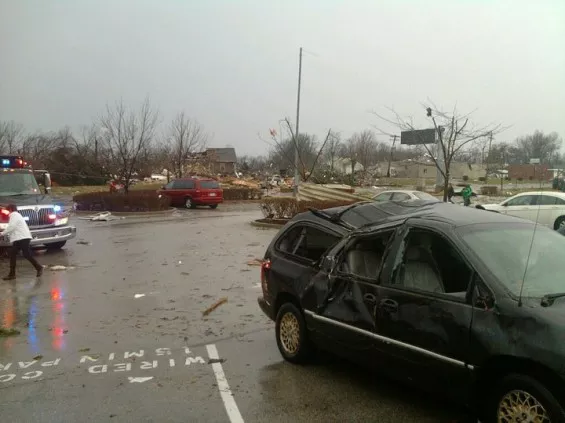 courtesy of Massage Envy
A photo of tornado damage, taken by employees of the Sunset Hills Massage Envy.
On Friday, when a tornado hit Sunset Hills and other south county suburbs, the Massage Envy franchise on Lindbergh Road was not spared.
The place suffered more than 25 holes in the roof, says spokeswoman Marcia Scott, with wood and trees embedded in some of the holes. And, because the windows and doors were blown out, "debris and rain and water got in just about every room," she says.
But come Monday morning, the business was already prepared to open its doors -- a triumph of can-do Missouri spirit. (Or, if not precisely that, something equally praiseworthy!)
courtesy of Massage Envy
More tornado damage.
Scott wanted to let us know that the Massage Envy location in question is offering discounted massages -- $30 for a one-hour massage instead of $49 -- from January 7 to February 7. There's a limit of one-per-person; anyone who's grateful for the offer is welcome to bring Massage Envy a donation for tornado assistance funds.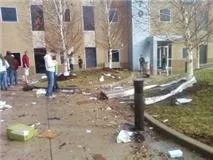 If you're writing a check, you can make it out to Concordia Lutheran Church of Kirkwood or the city of Sunset Hills Tornado Assistance Fund. Massage Envy will handle the rest -- so can you both save a stamp and get a discounted massage at the same time!
Oh, and Scott was willing to share a few more pictures, which we've posted here. Kind of crazy stuff to happen so suddenly, and so smack-dab-in-the-middle-of-civilization -- but it's great to hear that one business, at least, is already back on its feet.
​