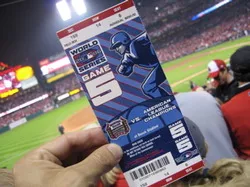 The Missouri Court of Appeals this morning heard arguments over a protracted lawsuit stemming from the 2006 World Series when St. Louis police officers were accused of taking tickets from scalpers and passing those tickets along to their friends and families.
In April of last year St. Louis Circuit Court Judge
Phillip Heagney
ruled in favor of gadfly
John Chasnoff
, a University City resident and his
Sunshine Law suit
seeking the release of the police department's full Internal Affairs investigation into the matter.
Following the ruling, the St. Louis Police Board of Commissioners said it
would not appeal the judge's ruling
and was prepared to turn over the file that, for the first time ever, would shed light as to which officers knew about ticket scandal and how they responded.
But the day the files were to be released four individual officers in
Phillip Menendez, Wendell Ishmon, Joseph Somogye
and
Thomas Kranz
asked to intervene in the case
, arguing that they testified to Internal Affairs on the condition that their comments would not be made public.
This morning
Neil Bruntrager
, the attorney for the police officers and
Tony Rothert
, legal director for the ACLU of Eastern Missouri that represents Chasnoff in the case, argued their points in front of the Court of Appeals for a half hour. The appellate court should rule on the case in the next couple months.
Rothert tells
Daily RFT
that he and his client "are confident the law is on our side as we have been since the beginning."