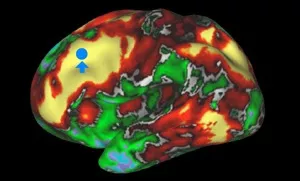 Imagine the brain as a gazillion-piece jigsaw puzzle, with unique meaning to each piece. Researchers at Washington University are working to analyze every single one of those pieces, and then figure out what makes them fit together with other pieces in unique patterns. In other words, they wanna understand what makes each individual mind look different from the others.
What's the point? One day, they hope, a doctor will be able to assess a patient's personality, memory, emotions and cognitive skills simply by looking at a picture of his brain. Docs say this could help with brain surgery, prescription drug treatments and mental illness diagnostics. ("Nurse, I think we've got a serial killer here.")
It's a daunting project -- not unlike cobbling together the human genome map, only this time it's a human neuron map. It's sure to take researchers a lifetime to fully realize, puzzle-piece by puzzle-piece. (The human mind has 100 billion neurons, which travel along millions of miles of brain wiring.)

The initiative, called the Human Connectome Project, is a collaborative effort between nine universities. Four institutions, including Wash. U's School of Medicine, are being funded by the National Institutes of Health. The project is summed up in today's New York Times.

The field is called connectomics. (A connectome is the mental makeup of a person.) "You are born with your genes, and they don't change afterward," H. Sebastian Seung, a professor of computational neuroscience at MIT, told the Times. "The connectome is a product of your genes and your experiences. It's where nature meets nurture."
In a press release from earlier this year, David Van Essen, the lead investigator at Wash. U, said: "This effort will have a major impact on our understanding of the healthy adult human brain. It will also enable future projects that probe what changes in brain circuits underlie a broad variety of disorders, such as autism and schizophrenia."
Sounds to us like this project requires the mother lode of all brain data. Here's the way the Times put it:
About one petabyte of computer memory will be needed to store the images needed to form a picture of a one-millimeter cube of mouse brain, the scientists say. By comparison, it takes Facebook about one petabyte of data storage space to hold 40 billion photos.
FYI, a petabyte is 1,000,000,000,000,000 bytes of data. Don't send us those photos by e-mail, please.
At the current stage of the project, the researchers plan to run brain scans on 1,200 volunteers. Want to have your mind photographed? Sign up with your friendly Wash. U mad scientists today.