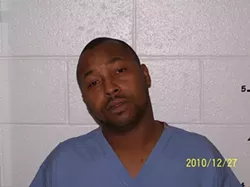 A truck driver from St. Louis is in custody today in Colorado after driving nine miles in the wrong lane of Interstate 70 before colliding with a Buick and killing a 71-year-old motorist.
According to reports
, Jason Ross climbed into the cab of his 35-ton semi around 8 p.m. last night and headed into the wrong lane of Interstate 70 in eastern Colorado. A police officer in the town of Limon tried to get Ross to pull over as his rig traveled down the highway without its lights on, but the vehicle didn't stop.
Cresting a hill near Cedar Point, Colorado, the truck collided with car driven by Martin Hernandez, who died of his injuries. His wife remains hospitalized. A nine-year-old granddaughter was treated and released.
Ross is in custody on suspicion of drunk driving, vehicular homicide and vehicular assault.
H/T: Latest Word