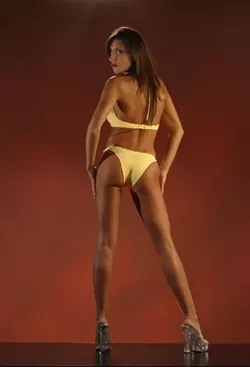 Photos: OneModelPlace.com
Adrienne Nicole Martin
Daily RFT
was in holiday hibernation when the
biggest society story of the year
broke last Thursday. That's the news that the 27-year-old girlfriend of former Anhueser-Busch CEO, August Busch IV, was found dead in his Huntleigh mansion.
Adrienne Nicole Martin passed away mysteriously December 19, though a
911 call wasn't made for 42 minutes
after she was found unconscious in the home of the 46-year-old former beer magnate. Authorities are awaiting a toxicology to determine the cause of death. Initial speculation is that she died of an overdose. Martin's ex-husband, however, says she suffered a heart condition.
In the meantime, here are a few of Martin's glamor shots as posted on modeling websites. The five-foot-five, 115-pound Martin lists her ethnicity as Native American, her measurements at 33C-23-33, and previous experience as a Hooter's waitress and a participant in regional swimsuit competitions.