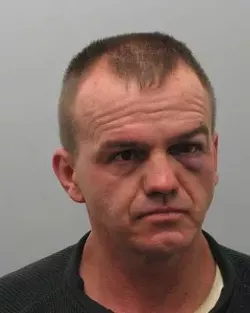 Gee whiz, Buddy. That wasn't too smart.
A clerk at a south St. Louis convenience store was alerted to a strange sound early yesterday morning that turned out to be a burglar attempting to saw his way through the roof.
The incident occurred around 5:20 a.m. Tuesday in the 9300 block of Broadway Street -- just south of River City Casino. The only convenience store in that block is a
Circle K attached to a Shell station
.
St. Louis County police report that they arrived minutes later to find suspect Buddy L. Ferguson, 47, still atop the roof. He was arrested and charged yesterday with first-degree burglary.
Police believe Ferguson, of the 1500 block of Ligori in Barnhart, may be responsible for 14 additional burglaries or attempt burglaries throughout St. Louis County and Jefferson County. His bail was set yesterday at $25,000.