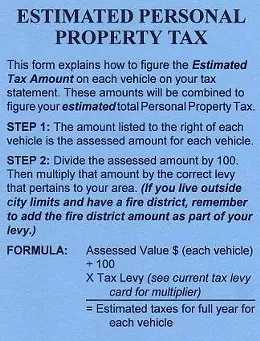 Have you heard the news today? A guy in Fenton says he's planning a
petition campaign to do away with the state's personal property tax
. That's the tax you pay each year on your automobiles, boats, motorcycles, farm equipment and ATVs. Never mind the fact that you already paid a state sales tax on the items when you purchased them.
"It's as if you're renting your personal property from the state," say Richard LaViolet, the man behind the campaign. "If you don't pay the tax, the state can appropriate your assets."
In St. Louis, the personal property tax is due by the end of the year and in 2010 is 6.92 percent of the assessed value of a vehicle. That means if you own a car assessed at just $5,000, you owe the city $346 by December 31.
As someone who just forked over his personal property tax to Collector Gregory F.X. Daly, I can sympathize with LaViolet. In fact, as much as I hate to admit it, I think I can even agree with financier Rex Sinquefield on this one.
Sinquefield, as you know, is the guy who's trying to eliminate income tax in St. Louis and Kansas City (and eventually throughout all of Missouri). As I
reported last month
, he already goes out of his way to avoid paying the steep personal property tax in St. Louis.
Sinquefield has the luxury of owning two homes in Missouri -- a Central West End mansion and a 580-acre compound in Osage County. As such, he is able to register his Bentley and the rest of his vehicle fleet in Osage County, which has a much lower personal property tax than St. Louis.
So how 'bout it, Mr. Sinquefield? How about helping those hard-working Missourians who aren't fortunate enough to choose where (and how much) they pay for personal property taxes? Instead of eliminating income taxes that most benefit the rich, why don't you first throw your millions at getting rid of the personal property tax that impacts most everyone?
That's an effort even your critics could endorse, especially this time of year. Think of it as a Christmas gift to the people that -- in one felled swoop -- could change that Ebenezer Scrooge reputation of yours.
What's that I hear? A "bah-humbug"!?
P.S. I could not find a list this morning of states that do NOT have personal property taxes. That said, I believe such a list is pretty short.