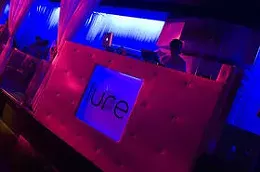 As we
reported last week
, the
embattled downtown nightclub
, Lure, has re-branded itself Amnesia, in the hopes that people will soon forget the controversy surrounding the Wasington Avenue establishment.
Fat chance, though, of that happening anytime soon -- at least with Amnesia's downtown neighbors. Yesterday Municpal Judge Margaret Walsh held a hearing to consider a petition drive aimed at revoking the nightclub's liquor license.
Attorneys representing Amnesia's owner, Aprille Trupiano, believe the petition drive doesn't have enough signatures. Nearby loft-dwellers see things differently. As the
Post-Dispatch
reports, downtown resident Matt O'Leary -- one of the leaders of the petition drive -- told Walsh yesterday that Lure/Amnesia needs to go.
"There's clearly a sentiment among neighbors that we want Lure to go away," said O'Leary. "Their patrons have behaved in a way that has made the neighborhood less attractive, less safe and created a perception that downtown is a dangerous place."
Walsh said she plans to rule on the petition drive by January 4. In September
Walsh revoked Lure's liquor license
on charges from City Hall, alleging that the nightclub contributed to violence and other disturbances. That ruling is being appealed.